We've scoured the net for a few good tips on getting your truck, cruiser, or SUV ready for spring:
General maintenance: fluids, belts & hoses, battery, brakes, wipers, tune up.
o Now is a good time to check all of your standard maintenance items, and order parts or schedule service if it's needed. Don't wait until the day before a big trip to realize you need a new serpentine belt!
Tires!
o If you switch out winter tires for a good all terrain, make sure your A/T's (or other summer tire) are fit for duty. Tires should have more than 3/32 of tread left to be suitable for another wheeling season. While the penny test works, invest in an inexpensive tread tool to know for sure
Above: Tundra wheels clean & ready for the trail!
Wash your rig…
o Yes, we're recommending you wash your truck. Even if you still expect to see plenty of slush & grime in the next couple of months, on the next warm day head down to the wash stall and clean everything. Wheel wells, underbody, interior cleaning, the works! Pay special attention to your coilovers, especially if they're aftermarket, as they can get gunked up with all the terrible things applied to the road to melt snow & ice. When your rig is clean it's much easier to notice little problems that could become major issues later in the year.
Rotate, balance, alignment
o Speaking of tires…make sure your summer set is ready to go. Rotate your tires if it's been more than 3,000 miles since the last rotation. Also have an alignment done on you truck to prevent or minimize uneven tire wear. Of course make sure all tires are evenly inflated.
Wax that paint!
o Even if you're truck is not so…new, a good coat of wax will bring out the shine and more importantly protect your paint from the harsh summer rays that are coming. Waxing 2-4 times per year will ensure your rig looks lovely for years to come, plus a good coat of wax makes it easier to wash the mud off. If you're in to that sort of thing.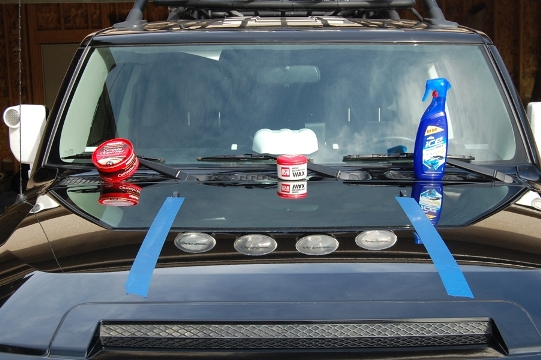 Above: FJ Cruiser wax comparision from TCT Magazine
We could go on forever about all the ways to prep your rig. Recovery gear, survival kits, CB & Ham radio testing, and any other modifications you want to do before summer could all be added to the list.
Hopefully these few basic tips will help you get your Toyota truck (or Land Cruiser or 4Runner) ready for some fun this summer!
Further Reading:
TCT Magazine FJ Cruiser CleaningTCT Magazine FJ Cruiser Cleaning
Consumer ReportsConsumer Reports